About Us

Darlene Brown
Darlene Brown is President of Real Estate Partners Chattanooga LLC and Managing Broker of its Downtown location. A licensed Realtor in the states of Tennessee and Georgia since 1984, Darlene is a member of the National Association of Realtors (NAR), Tennessee Association of Realtors (TAR), and the Greater Chattanooga Association of Realtors (GCAR). She holds the Realtor professional designations of GRI (Graduate Realtors Institute) and CRB (Certified Residential Broker.)

Darlene is a Chattanooga native and a longtime community leader working particularly in the revitalization of downtown. Living & working downtown in the '90s, Darlene Brown blazed a trail that led to the reinvention of Loveman's as downtown's first successful residential development. A host of thriving developments including Museum Bluffs Riverside, Museum Bluffs Parkview, BridgeView on the Northshore and Lofts on Main, 17th & Long, 1800 Cowart, Clark Centre and Jefferson Commons on the Southside have followed as pivotal developments and cornerstones in our city's continual transformation. Cameron Harbor, one of Downtown's largest developments to date, has had an equally impactful effect in the transformation of Downtown's riverfront and was the fastest growing Chattanooga development in 2015. Darlene's success, experience, knowledge, and commitment to her hometown, her profession and her clients has earned her the nickname Downtown Darlene Brown. It suits her.

Darlene has held virtually every office at the Greater Chattanooga Association of REALTORS including President and REALTOR of the year. She was the first female member of the Downtown Civitan Club and is an active supporter of the UTC Lady Mocs having orchestrated internships for the women athletes and fundraising activities. She has also initiated a company-wide program to adopt Clifton Hills Elementary School. Working toward the establishment of a non profit foundation, she has enlisted additional community and corporate support to Clifton Hills to fund student and teacher holiday drives, library support and school beautification efforts. She also served on the Board of Trustees at The McCallie School and in 2010 she was recognized by the Chattanooga Chamber as a finalist for the Athena Award for her support of women in business and her contributions to the local business community. She now serves on the Board of Directors of Cohutta Banking Company, a division of Synovus Bank, on the Board of Directors of the Chattanooga Area Chamber of Commerce and the Association of Visual Artists (AVA) serving as President in 2015. In 2016 she was named to the Executive Circle of the Chattanooga Area Chamber of Commerce and recognized as a Chattanooga Woman of Distinction.

Darlene brings her experience, dedication, professionalism and personal service to each and every one of her clients. Partnership is the foundation upon which she founded Real Estate Partners and it continues to be the commitment she gives as a personal pledge to each one of her clients and every real estate transaction.

Ryan May
A love for his hometown and perhaps a genetic predisposition for the real estate industry compelled Ryan May to leave the corporate world and join his mother, Darlene Brown, as a member of her Real Estate Team. Ryan credits a corporate relocation move with solidifying his love of Chattanooga. "I returned home with a greater appreciation for this city, its unique beauty, opportunities and quality of life."

A multi-million dollar real estate producer in his first year in real estate, Ryan is a graduate of The McCallie School and Samford University, Ryan brings more than 15 years of business, marketing and sales experience from his tenure at Coca-Cola Bottling Company United. Ryan is working with both residential buyers and sellers and in the areas of new homes, downtown and suburban developments, commercial real estate and leasing and serves the company as Business Resource and Development Director.

Ryan shares his mother's belief that there is no greater professional satisfaction than helping to guide and facilitate the homeownership process. "Our company value statement is 'We Believe Dream Homes Belong to All of Us.' That is a principle I strongly believe as well. Family and home are fundamentally linked."

Ryan has a strong commitment to his family, faith and community, he has been active in United Way of Chattanooga as a committee chairman, served the board of directors of the Fellowship of Christian Athletes, been a youth softball coach, and a committee chairman at Chambliss Children's Center. Most recently, he has been a very active volunteer at the Clifton Hills Elementary School through the company's "adoption" program.

Wendy Taylor
Wendy Taylor, a licensed real estate agent, is the team's Buyer's Specialist. With a strong background in customer service, Wendy works with prospective buyer's throughout the Tennessee and North Georgia area. Wendy maintains detailed and extensive knowledge on all developments and listings held by the Darlene Brown Team. With strong communication and client service skills, Wendy most recently worked with scores of buyers at Cameron Harbor guiding them through the extensive and year long construction to close process developing an in depth knowledge of this specific and complex process.

Wendy is an active volunteer leader in the Clifton Hills Elementary School adoption program.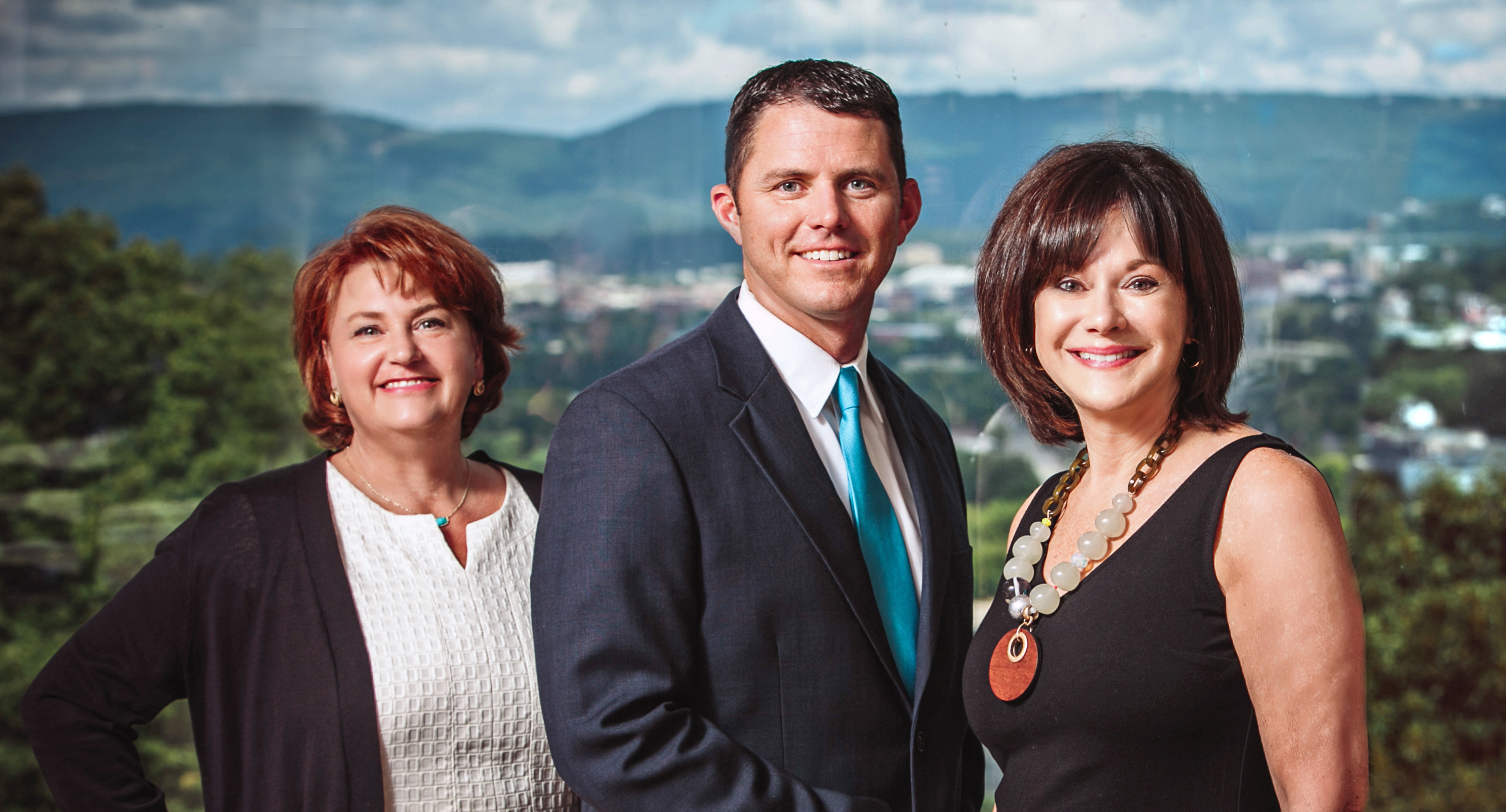 Wendy Taylor, Ryan May and Darlene Brown